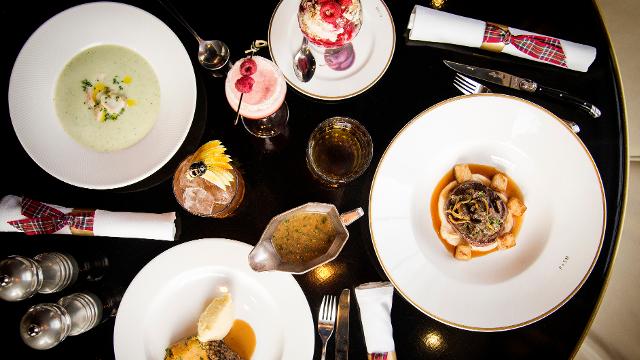 This event has finished.
Celebrate Scottish poet Robert Burns' birthday with poetry readings, slap-up dinners, traditional dancing and a toast with the best Scottish whisky in London.
Read More
About
Eat, drink and dance to celebrate the life and work of Scotland's national bard on Burns Night in London.
What is Burns Night?
Burns Night celebrates the anniversary Robert Burns, a Scottish poet and lyricist who was born in 1759 and became a national icon.
Many London restaurants and bars hold Burns Night events, serving up suppers of haggis and tatties with a wee dram of Scottish whisky. More elaborate London Burns Night celebrations also include poetry readings, toasts and bagpipe music, before everyone joins in the ceilidh dancing.
Whether you choose to don your finest tartan outfit or otherwise, there are plenty of things to do on Burns Night in London, from whisky bars to full-out Scottish festivities.
When is Burns Night?
Burns Night is marked with a traditional supper and music on or around the anniversary of his birth, 25 January, in Scotland and across the UK.
Where to celebrate Burns Night 2020 in London
Celebrate Burns Night in restaurants in London
Head to London's Scottish-themed restaurant mini chain, Boisdale, for its annual Burns Night celebrations.
Sip on decadent whisky snifters at a Burns Night Whisky Tasting Evening with The Glenlivet at Rotunda Bar and Restaurant. 24 Jan
Celebrate Burns in style at the black-tie Burns Night Supper at London Scottish House. 24 Jan
Sip on whisky and tap away to live music at the uniquely entertaining multi-sensory Project Burns Night Party hosted by The Rhythm and Booze – experts in all things whisky and gigs. 24-25 Jan
North Londoners can celebrate Burns Night with an Epping Forest Burns Supper. Expect songs, poetry, entertaining speakers and humour! 25 Jan
South London's British pub, The Cyclist in Balham, hosts a Burns Night Supper in honour of the Scottish poet, serving a traditional meal, warming whisky and cocktails. 25 Jan
Celebrate Burns at a Traditional Burns Night Celebration Supper at Tate Britain's Rex Whistler Restaurant, where art, food and bagpipes collide. 25 Jan
Join Fortnum & Mason for a Selkirk Grace, a four-course meal and entertainment in celebration of life and work of one of Scotland's most-famous sons. 25 Jan
Join a Burns Night ceilidh in London
More themed Burns Night events in London