London Restaurant Festival 2021
From to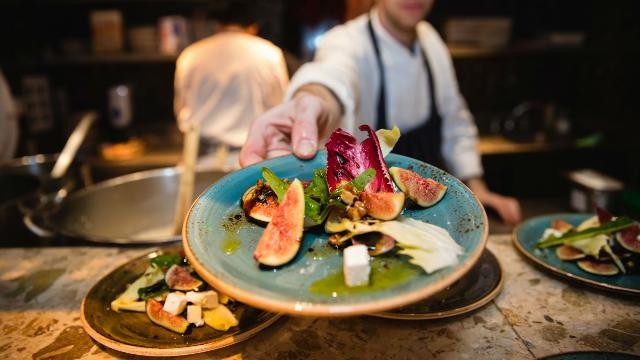 This event has finished.
Sample exclusive menus and enjoy unique restaurant experiences in award-winning eateries during the annual London Restaurant Festival.
About
Celebrate London's eclectic food scene with the London Restaurant Festival taking place in restaurants across the city.
This month-long festival is a city-wide homage to great food in London, and the perfect excuse to try out some of the capital's world-class restaurants.
What's on during London Restaurant Festival 2021?
You can enjoy a programme of food and drink events in London which includes specifically curated menus, restaurant hopping tours, movie nights and more!
Here's a flavour of what you can experience...
In-restaurant foodie events
You can treat your taste buds to exclusive four-course menus at top chefs' restaurants, inspired by the world's Top Ten Cuisines.
Or immerse yourself in Restaurant-Hopping Tours, a five-star foodie experience visiting four culinary destinations in one evening.
Experience London's best eateries serving flavoursome bites with the specially created Talk on the Town, and London Legends tasting menus.
Discover London's Avant Garde restaurant scene, with specially created menus from the capital's most unique restaurants.
Combine the best of food and film at Binge, an immersive experience blending a movie or live tv screening with fantastic themed food.
Be taken on a gourmet odyssey at the Ultimate Gastronomic Weekends hosted by top names in the industry.
You can also take your family and friends on a London's Longest Lunch, a six-course lunch including a private river tour between two exquisite London restaurants.
And experience the spirit of the London Restaurant Festival with live or virtual tastings and masterclasses.
American Express cardmembers can also enjoy a four-course meal with London's greatest chefs, such a Michael Roux and Atul Kochhar.