Totally Thames 2020
From to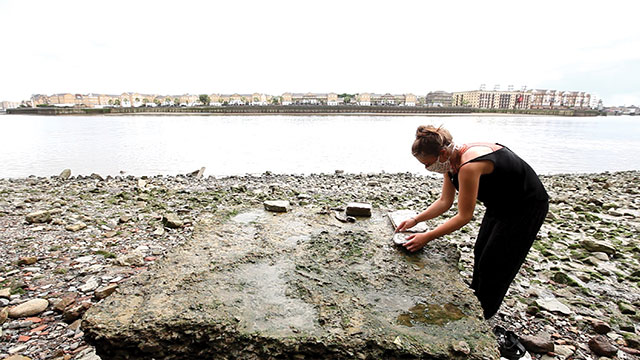 This event has finished.
Celebrate the river Thames and its culture with a programme of river-inspired art, tours and virtual activities.
About
See London's river Thames brought to life in a month-long season of digital and socially distanced events along the river's 42-mile (68km) stretch during the annual Totally Thames festival.
Since launching in 2014, the celebration has successfully created many unique opportunities to learn about London's famous river.
What are the highlights of Totally Thames 2020?
You can usually walk along the Thames to see large-scale art installations, free exhibitions and live performances. But this year, the festival takes a more online-friendly form in light of coronavirus with plenty of activities to enjoy from home and some contact-free events throughout London.
Events and activities to enjoy from home
Live-streamed shows and performances
Virtual river-themed activities
Contact-free events in your area
Central London
Ever wondered what it's like to be on a working shipyard? Then take a tour of The Golden Hinde Shipyard at London Bridge to learn about and marvel at its structure. The tour is also available online. 26-27 Sep
Peek at river-inspired artwork made by children from around the world while in lockdown, at Rivers of the World, an outdoor exhibition in Bankside. 1-30 Sep
Get to know the flora and fauna of the river Thames by completing challenges with Fantastical Fleet's self-guided tour of the river Fleet underground tributary. 1-30 Sep
North London
Did you know there are underground rivers buried under London's streets? Set off from Hampstead Heath on self-guided or group treasure hunt with the Fleet Footing interactive experience to find out more. 5-27 Sep
West London
Catch views from a kayak at a fun session from the Chelsea Kayak Club during the Sea Kayaking Taster Weekend. 5-6 Sep
Have a go at water sports and angling at the all-day Thames Tidefest, which celebrates water sports on Strand on the Green, Chiswick and Barnes foreshores. 6 Sep
If you live near Kingston, don't miss Words on the Wind, an outdoor, interactive installation mixing poetry and sound. 26 Sep
East London
Walk around Rotherhithe, which has a rich history, from the East India Company, Dickens and Gulliver to the Mayflower, during the Mayflower and the Ships of Rotherhithe tour from The Brunel Museum. Various dates
How has river Thames and Docklands transformed over time? Find out during the Timeless Thames Foreshore Workshop, where you can create art inspired by objects from the riverbanks. 5-6 Sep
Expand your knowledge of plastic pollution in rivers at an artsy workshop, a clean-up or an exhibition focused on conservation and sustainability. 11-13 Sep
South London
Spot artworks by icons including Antony Gormley, Gary Hume and Laura Ford as you follow The Line, an ever-evolving route between The O2 and Queen Elizabeth Olympic Park that's filled with art installations. 1-30 Sep
Fulfil your curiosity from home or make your way to Fulham Palace for an all-day Foreshore Festival. See river-related objects and learn the roles of watermen and the bishops in building of the Fulham Railway Bridge. 6 Sep
Visit the Totally Thames website for the full programme and ticket information.