Trooping the Colour: The Queen's Birthday Parade 2022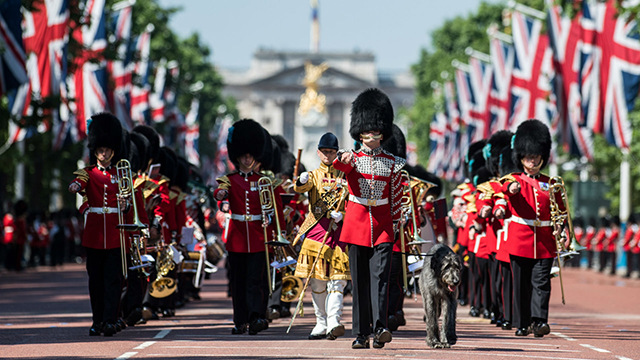 This event has finished.
Watch troops from the Household Division honour the Queen's official birthday with Trooping the Colour, a fantastic military parade that has taken place in London for two centuries.
About
Experience a traditional ceremony full of military pomp and pageantry with Trooping the Colour on Horse Guards Parade.
Marking the Queen's official birthday, this annual event features hundreds of officers, horses and musicians from the Household Division in ceremonial uniform.
The Queen herself attends the ceremony. She is first escorted in a carriage from Buckingham Palace along The Mall to Horse Guards Parade. There, she carries out an inspection of her troops, before leading her guards in a parade back to Buckingham Palace. Once at the palace, the Queen takes the salute, and guns are fired in Green Park and at the Tower of London. Finally, she joins other members of the Royal Family on the palace balcony to watch the Royal Air Force flypast.
Events begin at 10am, with the RAF flypast taking place at 1pm.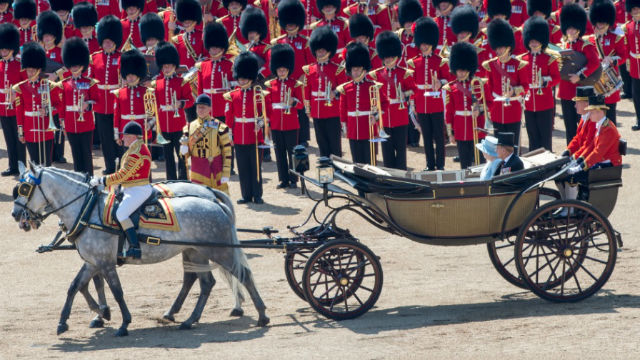 What is Trooping the Colour?
After existing in various forms since the 17th century, the Trooping the Colour ceremony has been held every year in London to mark the sovereign's official birthday since the accession of King George IV in 1820, except during the world wars and a national strike in 1955.
Although the sovereign's official birthday is celebrated in June, Queen Elizabeth II's actual birthday is on 21 April. Monarchs are traditionally given a second birthday if they were not born in the summer, in case the British weather is unsuitable for an outdoor event!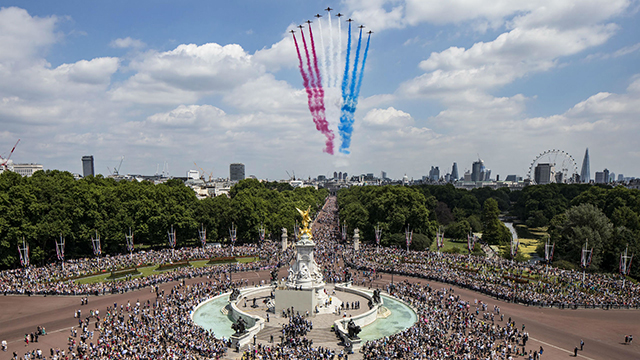 How to get Trooping the Colour tickets
Tickets for the seated stands on Horse Guards Parade are available to the public via an online ballot, which closes on 7 March.
Where to watch Trooping the Colour
If you do not have tickets for the Trooping the Colour ceremony on Horse Guards Parade, you can join the crowds of spectators on the edge of St James's Park overlooking Horse Guards Parade or along The Mall for the parade.
Alternatively, tickets are available for the rehearsal events held on the two Saturdays before Trooping the Colour: the Major General's Review and the Duke of Cambridge's Review. You can also get tickets to the Household Division's military evening pageant Beating Retreat, which takes place in the same location on the Wednesday and Thursday preceding Trooping the Colour.
The parade is also broadcast live on the BBC on the day.