From central London, hop on the Tube and ride the Northern line for 10 minutes up to Camden Town. As soon as you exit the Tube, you'll find yourself right in the heart of the action – surrounded by street performers, live music, an international crowd and plenty of shoppers. With its alternative vibe, it feels worlds away from the West End. So what is there to do in Camden?
1. Shop 'til you drop in Camden Market
Right next to the famous canal, Camden's Stables Market (formerly a horse hospital) is easy to get lost in, and in my opinion, that's the best way to experience it! Shop for everything from vintage clothes to handmade jewellery and novelty phone cases, and don't miss the crazy neon underground world at Cyberdog.
2. Take a walk along the canal
Camden Lock and Regent's Canal are part of the area's heart and soul. Head in one direction and you'll reach Regent's Park, while in the other you'll pass the revamped King's Cross before reaching Angel. Along the way you'll pass beautiful canalside mansions, cool street art, colourful narrow boats, buskers and even a floating Chinese restaurant!
3. Eat your way around the world at Camden's Food Market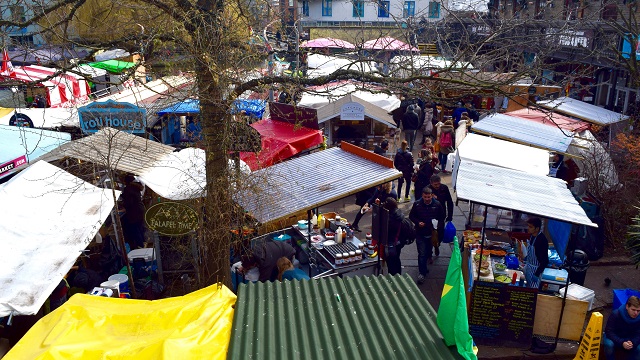 From Peruvian ceviche and Japanese sushi to Argentinian steak and Indian roti, there's barely a cuisine not represented at Camden's Food Market. Grab a bite and find a spot to sit by the canal. Room for more? There are plenty of sweet treats on offer including crepes and cupcakes. You can even have your fave chocolate bar fried into a doughnut at The Original Crispy Candy Co.
4. Grab a caffeine boost
Camden is full of cute, quirky coffee shops. My favourite is Leyas. Moments from Mornington Crescent Tube, not only is the coffee great, but they also serve delicious brunches, healthy salads and uber-naughty brownies! It's the perfect place to visit, whether you're meeting friends or want somewhere to base yourself as a digital nomad.
5. Enjoy the best free view of London
Camden is a lovely green neighbourhood and one of my favourite spots is Primrose Hill. Head to the top for one of the best views of the city – with the London Eye, The Gherkin, The Shard, BT Tower and Canary Wharf all in sight. In the summer, gather your friends for a picnic with a view, and then head to one of the pubs nearby once the sun disappears.
6. Find your favourite pub
Whether you fancy somewhere old fashioned, a gastro pub, live music, or a place to watch the football, there are tons of great pubs to choose from. My favourite (and local) is the Colonel Fawcett. With more than 60 varieties of gin and a gourmet menu including scallops, steak, epic burgers and the best pub roasts around, it's hard to beat!
7. Hang out in one of London's most beautiful parks
Regent's Park is more than just a patch of green! Watch a show at the Regent's Park Open Air Theatre, hire a rowing boat, enjoy the aroma of 12,000 roses in Queen Mary's Gardens, play tennis, cricket or football, or spend the afternoon hanging out with penguins and lions at ZSL London Zoo. One of my favourite times to visit is during the Taste of London Festival in June when superstar chefs from the capital's top restaurants take part in cookery demos and serve up their signature dishes.
8. Grab an ice cream with a difference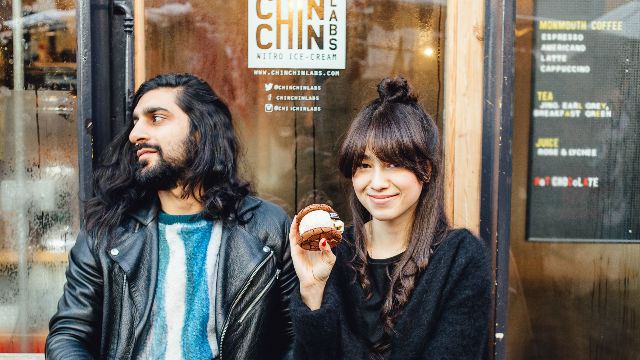 No more 99s, Chin Chin Labs create delicious desserts using liquid nitrogen in their scientific ice cream parlour! Along with the usual flavours, they're always coming up with something new, from beer butter caramel and coal-smoked satsuma to fig jam doughnut. If you're feeling extra naughty, order an ice cream cookie sandwich! You won't regret it.
9. Check out some of London's finest street art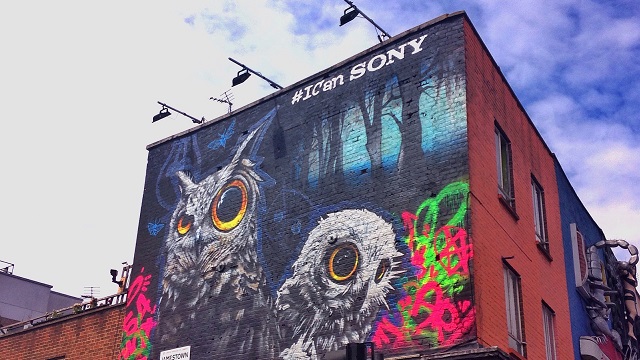 Shoreditch and Hackney are covered in cool murals and street art, but Camden has plenty to shout about too. Keep your eyes peeled and you never know what you'll find.
10. Get on the water
The London Waterbus Company takes passengers along Regent's Canal from Camden Lock to ZSL London Zoo and Little Venice. It's a lovely peaceful way to see the area, and a chance to travel on one of the canal's historic narrow boats. If you're feeling more adventurous, head to The Pirate Castle and hire a kayak.
11. Eat your bodyweight in cupcakes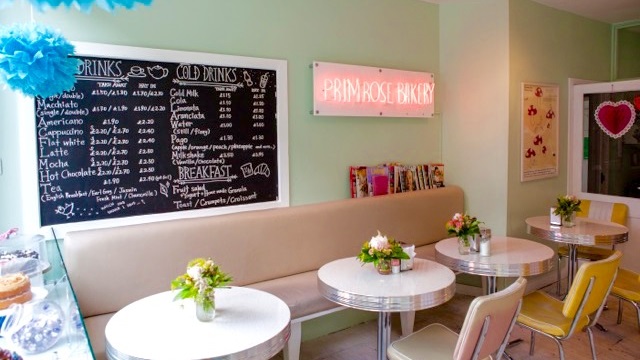 Stock up on delicious hand-made cupcakes in a variety of flavours and colours at Primrose Bakery. Salted caramel is the top seller, but if you fancy something a bit stronger, try the cocktail cupcakes – margarita, Moscow mule and a good old G&T.
12. Dance until dawn
Whether you like rock, R&B, house or some full-on cheese, there's something for everyone in Camden. Head to Guilty Pleasures at Koko and sing along to classics from Queen to Cyndi Lauper, catch the biggest live acts at The Roundhouse or party until the early hours in a former stable at Proud.