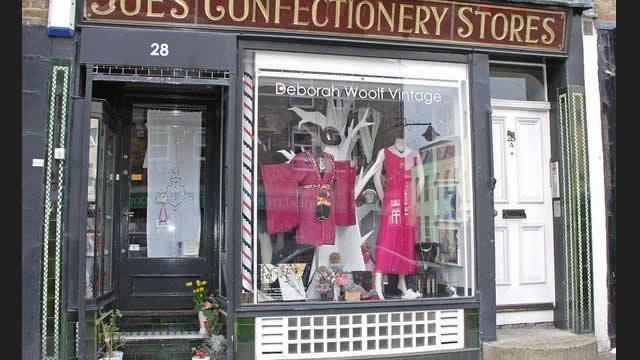 Deborah Woolf has collected vintage fashion, textiles, ceramics and antiques since she was a child. In her teens, she sold her first treasured finds at regular Sunday stalls at the old Swiss Cottage
Read More
About
Deborah Woolf has collected vintage fashion, textiles, ceramics and antiques since she was a child.
In her teens, she sold her first treasured finds at regular Sunday stalls at the old Swiss Cottage market London, moving onto the original Camden Lock market in my 20s (at the same time as Wayne Hemingway, Joe Casely-Hayford amongst others).
Forever collecting and selling I moved into film and TV, working many creative years on music videos, commercials, youth TV, music TV branding and art-directing, including nine years at MTV UK writing and directing award winning Image Campaigns, trailers and marketing campaigns.
Deborah Woolf loves vi\ntage clothing, accessories and textiles with unusual print design, quirky styling and detailing. She specialises in and personally collect striking costume jewellery from the 50s, 60s and 70s in lucite, enamel and metals by top designers as well as unsigned wonders of the period along with a large collection of figural brooches, pendants and bracelets - as seen in the 60s and 70s jewellery she supplied for sale at the V&A Museum shop to accompany the V&A "Cold War Modern" exhibition in 2008-9. This followed the huge success of the V&A's 2007-8 exhibition "The Golden Age of Couture 1945-55" where she was lucky enough to supply the V&A exhibition shop with original vintage 1940s and 50s jewellery, bags, shoes, scarves and magazines.
We work with many stylists, fashion and costume designers - sourcing and selling vintage to a brief as well as hiring for advertising campaigns. We pride ourselves on being both very concientous about what we hire, out to avoid duplication on shoots as well as being extremely discreet about our client list.
Deborah Woolf will also source you a one-off clothing or accessory item or a collection as well as spend quality time when looking for an outfit for a special occasion. Deborah is very skilled (and patient!) in knowing what will fit, suit or encouraging a little creativity in the way that suits the client.
Venue Details & Map
Deborah Woolf Vintage
Address

28 Church Street

St. John's Wood

London

NW8 8EP