There's no better way to spend a Sunday morning in London than wandering the capital's colourful street markets; picking up cool crafts or vintage treasures and tucking into delicious street food.
Camden Market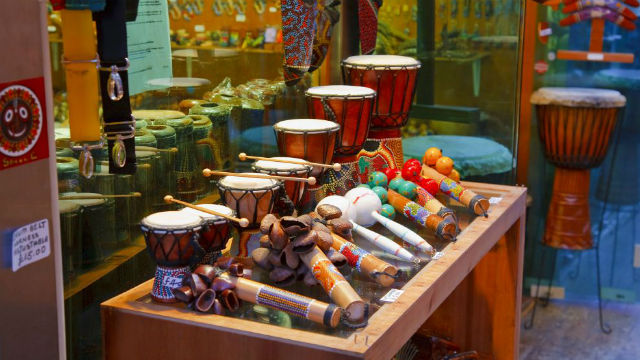 Camden Market is actually made up of two marketplaces – The Stables and The Lock, located right in the heart of Camden Town along the picturesque Regent's Canal. Pop in to pick up unique handmade jewellery and artwork, vintage fashion, souvenirs and much more from the stalls and shops clustered within. Then stop off for an alternative Sunday lunch at one of the food stalls. Open 10am-6pm.
Columbia Road Flower Market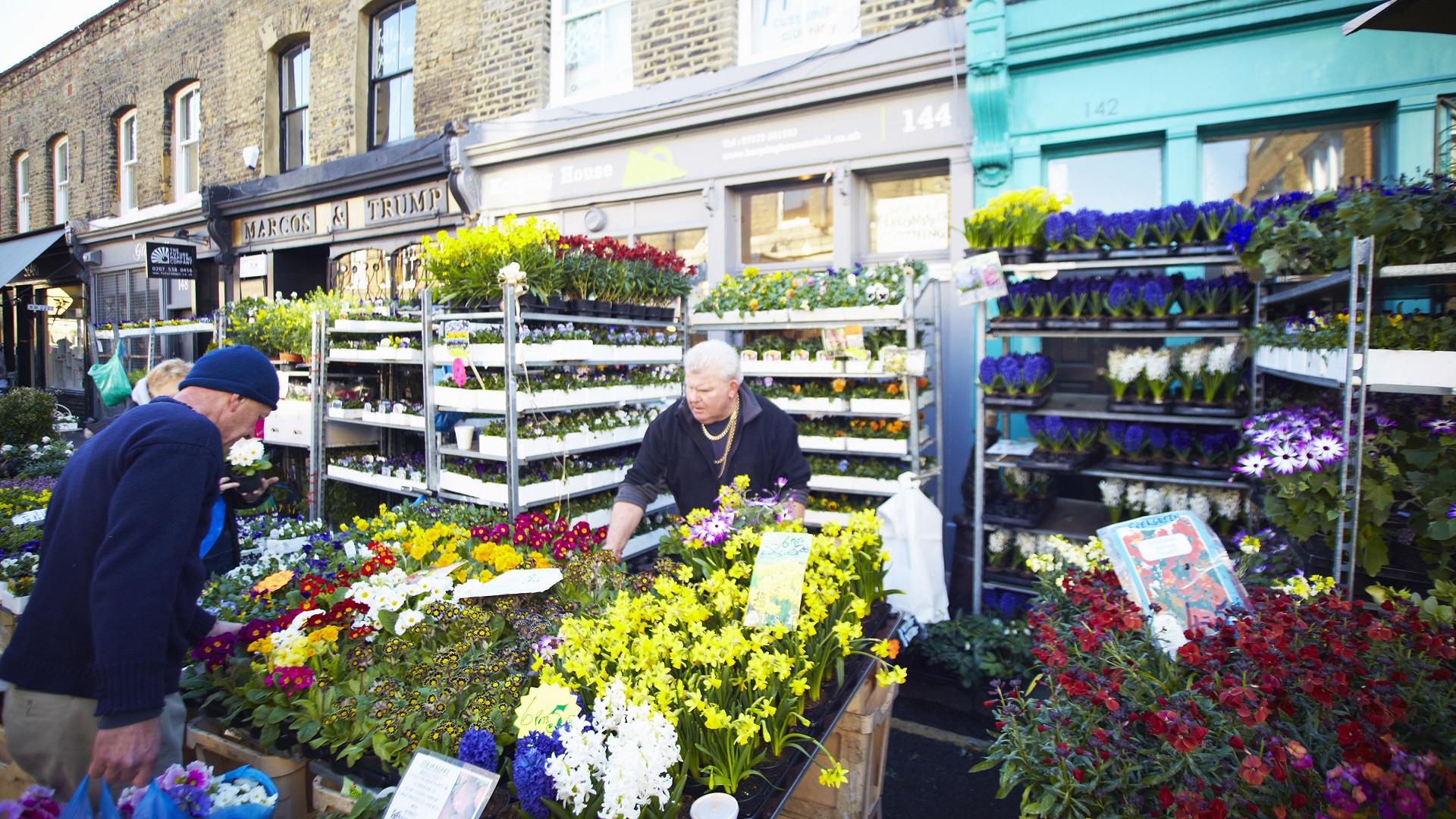 London's favourite floral market, Columbia Road Flower Market is a feast of colour. Don't forget your camera to snap all the beautiful blooms, which are for sale alongside plants and gardening essentials. Get there early (it's open from 8am until about 3pm) to see it at its best – and save time to browse the independent shops and eateries along Columbia Road itself, which is lined with cafes, galleries, antique shops, restaurants and more.
Covent Garden Market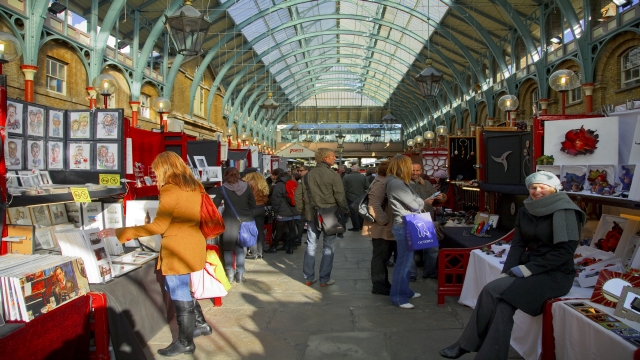 In days gone by, Covent Garden Market was a bustling thoroughfare of fruit and vegetable sellers. Today you'll find fewer groceries – but more great gifts. There are actually three different markets under the Covent Garden umbrella: the Apple Market, selling British-made crafts and accessories; the East Colonnade Market, with stalls offering everything from magic tricks to sweets; and the Jubilee Market, where on weekends you'll find arts and crafts up for grabs.
Greenwich Market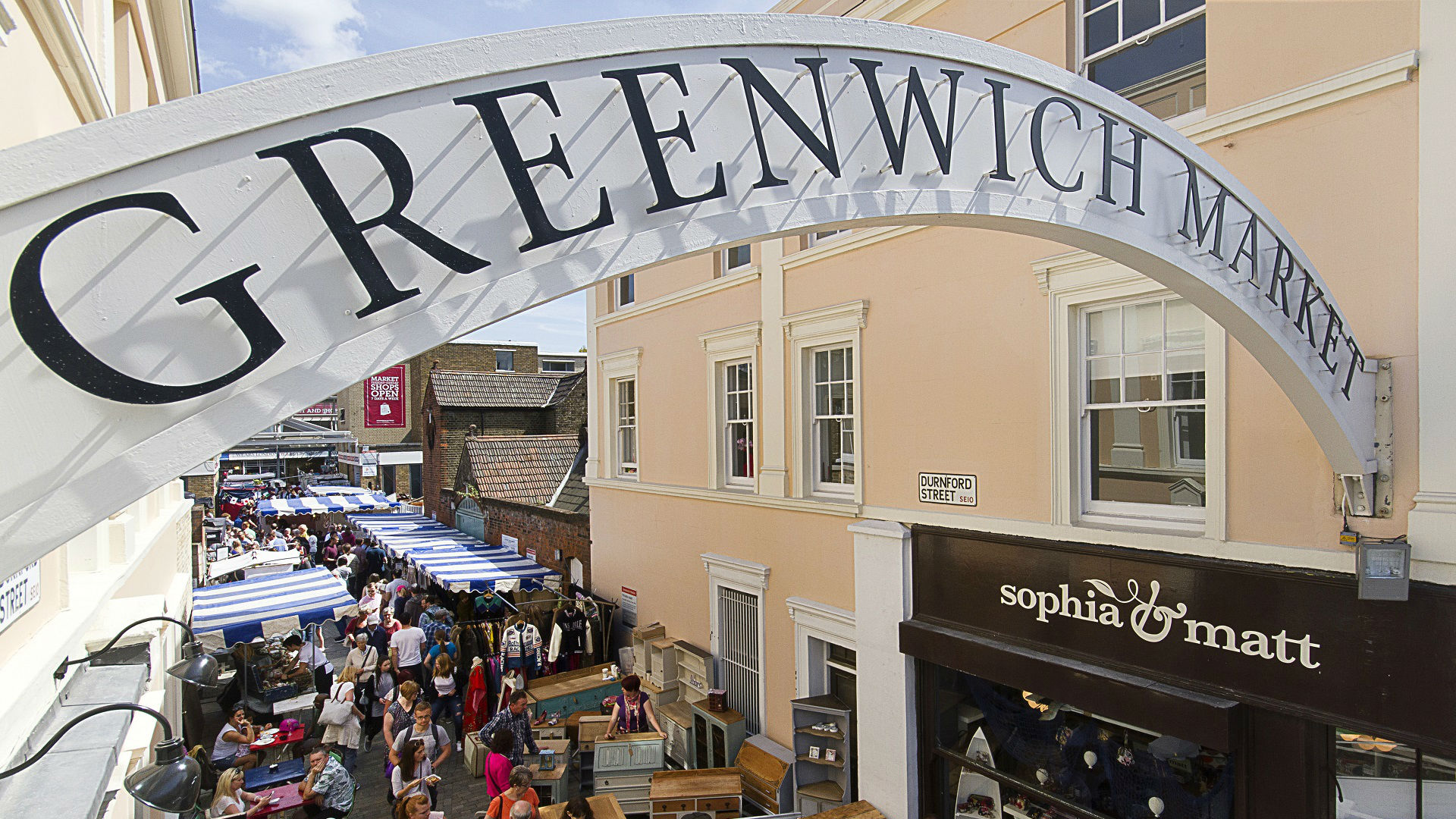 Greenwich Market is one of the highlights of the historic town of Greenwich, home also to the Royal Observatory and Planetarium, National Maritime Museum and the Greenwich Mean Time. The market is packed full of stalls selling quirky gifts, arts and crafts, fashion and one-off designs. Suggestion: have a good browse then pick up lunch on your way out – some fresh sushi perhaps, a plate of Ethiopian cuisine or some tasty cakes – and find a perch to sit along the river by the Cutty Sark sailing ship, just two minutes' walk away. Open 10am-5.30pm.
Eccleston Yards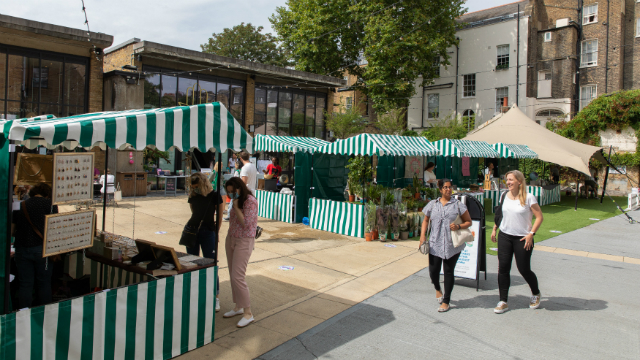 Walk around the corner from Victoria station and find vendors from across London selling unique finds in Eccleston Yards. Pick up illustrated children's books from Telling Tales, handmade candles from Clarity Candles, stunning ceramics from Eccleston Yards' Studio Pottery London and bespoke jewellery from Roccabella. Fuel your shopping spree with wood fired pizza from Ross & Ross foods and tuck in to baked goods from Rodgis. Visit Eccleston Yards Sunday Market from 11am to 5pm every Sunday.
Old Spitalfield Market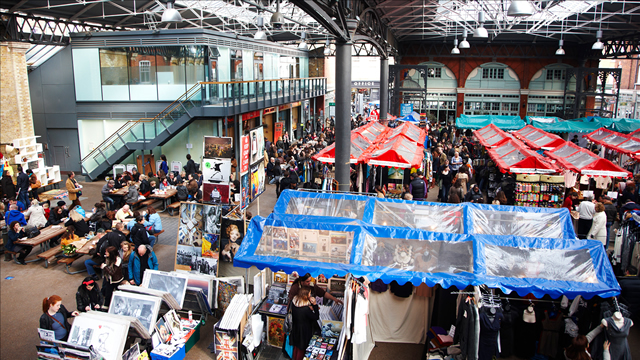 One of the finest remaining Victorian Market Halls in London, Old Spitalfields Market (open 10am-5pm) was built in 1876. But it's kept up with the times and still attracts the Sunday crowds, who come to find pieces from up-and-coming designers, cool accessories, new fashions and unique furnishings. The stalls are surrounded by a wide mix of restaurants, beauty shops and niche stores, selling everything from delicious cheeses to wine.
Maltby Street Market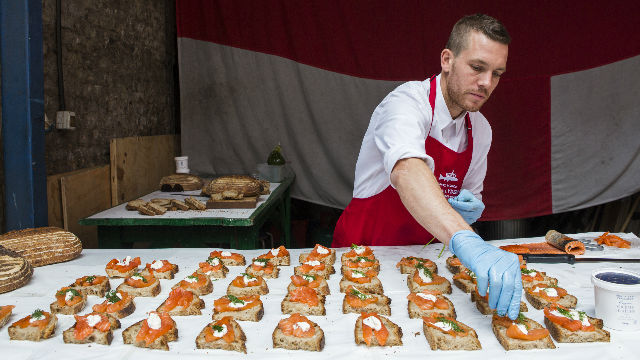 For foodies, there's no better place spend a Sunday morning than at Maltby Street Market. This small but popular market, open from 11am-4pm, is known for its fresh produce and baked goods – popular favourites include St John Bakery's sourdough bread and fresh doughnuts, and the pastrami and salt-beef sandwiches from Monty's Deli. There are also cakes, cheeses, meats and even craft beers on offer, so go with an empty stomach – and an empty shopping bag.
Brick Lane Market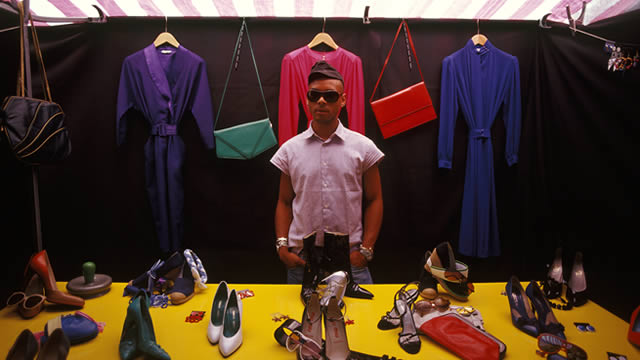 Wander along Brick Lane on a Sunday and you'll find yourself caught up in a rambling flea market, navigating countless stalls selling bargain bric-a-brac. Clothes, electricals, antiques, nicknacks… you never know what you'll find next. Get there early (traders set up as early as 8am, and wind down mid-afternoon) for a bargain. But if you arrive later, there are also the markets of The Old Truman Brewery to explore, including the Backyard Market, Sunday UpMarket and Vintage Market.
Southbank Centre Market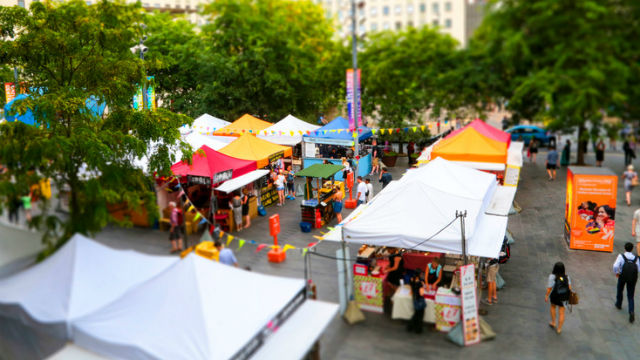 Venture along the South Bank, behind the Royal Festival Hall, on a Sunday and you'll find a cluster of small producers and independent traders stalls selling delicious snacks and drinks. You can buy meats, spices, preserves and more to take home, or tuck into freshly-made dishes. Pop into the Royal Festival Hall too while you're there. You never know, you might catch some free music in the Clore Ballroom. Open 12pm-6pm.
Flea at Flat Iron Square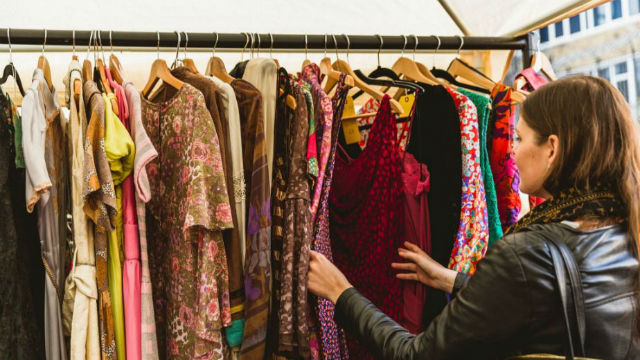 Alongside its eclectic mix of pop-up restaurants and food stalls, Flat Iron Square hosts a vintage and makers market on Sundays. Browse through the stalls and take home antique and reclaimed furniture, books, records, retro clothes and other one-off treasures. It's open all day from 10am until 5pm, so there's plenty of time to grab a bite to eat and listen to live music playing in the background while you soak up the relaxed atmosphere.