London boasts 13 professional football teams, which is more than any other city in the world. Combine a visit to the capital with an afternoon or evening watching your favourite team play.
Ever wondered which London clubs offer stadium tours? Take a look below to find a tour of one of the city's legendary football grounds, including England's national stadium, Wembley.
Wembley Stadium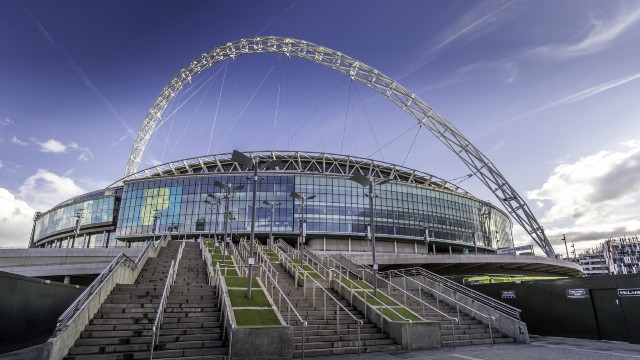 Dubbed "the home of football", Wembley Stadium is home to England's national football teams. See international matches or grab a ticket for the finals of club cup competitions. Book a Wembley Stadium tour to go behind the scenes of the famous stadium, including a chance to hold the FA Cup.
Book a Wembley Stadium tour now
Arsenal
Known for their famous red and white jerseys, "The Gunners" are one of London's most historic and successful football clubs. You can tour the club's Emirates Stadium in Islington to see the changing room, tunnel and more exclusive areas, and be given free entry to the museum as part of your ticket.
Book an Emirates Stadium tour now
Chelsea
West London club Chelsea F.C. have found huge success at home and abroad in recent years – including winning the pinnacle of European club football, the Champions League in 2021. Explore the club's home with a Stamford Bridge stadium tour taking in the changing room, dugouts, museum and more.
Book a Chelsea F.C. Stadium tour now
Tottenham Hotspur
Tottenham Hotspur F.C. moved to their new stadium, Tottenham Hotspur Stadium, in 2019 after leaving their former White Hart Lane ground. As well as being home to "Spurs", the stadium also hosts the annual NFL London Games. Take a multimedia stadium tour and sit in the dugout, or brave the Dare Skywalk, a thrilling climb onto the stadium's roof.
West Ham United
East London team West Ham United F.C. have been in England's top flight for much of their history. "The Irons" moved into their new home, London Stadium, following the London 2012 Olympic and Paralympic Games. Learn more about the stadium and the club during one of the regular London Stadium tours.
Crystal Palace
South Londoners Crystal Palace F.C. have a strong local following, with matchdays often full of atmosphere. Although regularly switching between divisions, Palace have maintained their Premier League status in recent years.
Watford
Another team to regularly yo-yo between the top two divisions, Watford F.C. have come close to winning the FA Cup, finishing runner-up twice. The north London club has a dedicated legion of fans, including music superstar Elton John, who was once its chairman.
Brentford
Until recently, Brentford F.C. had spent most of their long history in the lower tiers of English football. "The Bees" moved to their new west London stadium Brentford Community Stadium in 2020, and were promoted to the Premier League for the first time in 2021.
Fulham
Rivals with fellow west London club, Chelsea, Fulham F.C. are the oldest London club in the football league, having formed in 1879. Enjoy a game at Fulham's historic home, Craven Cottage, on the banks of the Thames.
Other London football clubs
Other football clubs in London to play in the football league system include Queen's Park Rangers, Charlton Athletic, Millwall, AFC Wimbledon and Leyton Orient; with many more non-league teams also competing across the capital.
Major football events
UEFA Euro 2020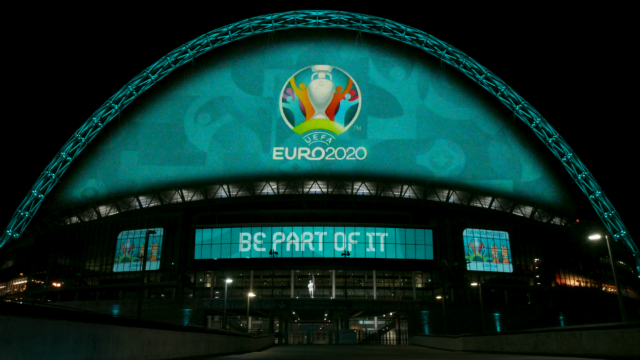 Postponed from 2020 due to the coronavirus pandemic, UEFA Euro 2020 takes place from 11 June to 11 July 2021. Wembley Stadium hosts England group matches, two round-of-16 ties, both semi-finals and the final. Follow the action and meet fellow fans at London's fan zones.
UEFA Women's Euro 2022
Hot on the heels of the postponed men's UEFA Euro 2020 competition, the women's equivalent tournament UEFA Women's Euro 2022 involves 16 national teams. Four of the games will be played at Brentford Community Stadium, with the final set to take place at Wembley Stadium.
The FA Cup Finals
Don't miss the men's and women's FA Cup Finals, which take place at Wembley Stadium in May each year. If you can't secure a ticket, watch the action in one of London's sports bars.
Explore by category