Rugby in London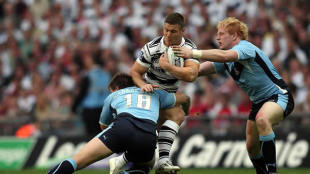 Both rugby codes (Union and League) are played professionally in London. Twickenham Stadium hosts much of the rugby action.
Rugby Union takes place between September and May, while the Rugby League season runs from February to October.
Tickets for major matches can be hard to come by, especially given the recent surge in the popularity of the game. Find out more about Rugby Union and ticketing at Twickenham at the (RFU) website, and rugby league at the Rugby Football League website.
You can visit the World Rugby Museum and join a tour of the Twickenham stadium. Exhibits include lots of unique memorabilia.
London boasts a healthy number of domestic teams, some of the major ones include:
London Irish
All London Irish home matches take place at the Madejski Stadium in Reading. You can catch a train from Central London stations Paddington, Waterloo and Clapham Junction
London Wasps
The London Wasps play home matches in Adam's Park in High Wycombe. You can catch a train from Central London station Marylebone
Harlequins
The "Quins" play home matches at Twickenham Stoop Stadium
Saracens
Saracens play home matches at Allianz Park Stadium.
London Broncos
The Broncos play home matches at Trailfinders Sports Club.