Huge improvements have been made to London's cycling network over the last few years, with more cycle lanes, driver awareness campaigns and extensions to the Santander Cycles scheme. With the right safety precautions, cycling is a unique way to experience and enjoy the city.
Scenic cycle routes in London
TfL has developed some fun leisure cycle routes. They are a great way to see London at your own pace and have been designed to be done in short, easy stages.
As part of the Streetspace for London programme, TfL is also adding an initial 1,000 extra cycle parking spaces across London, focused around busy areas, such as high streets and transport hubs.
Cycling safety tips
When cycling through London's busy traffic, it is essential to wear a helmet. Some people also opt for facemasks.
It's very important to be seen by other road users, so wear reflective clothing and make sure your lights are working when cycling after dark. Safety tips and scenic cycle routes can be found on our London Cycle Paths page and at:
The TfL cycling pages feature a host of useful resources for cyclists. You can order printed guides and maps covering the whole of London, find out about cycling training sessions and use a handy journey planner tool to choose the type of cycle route you want – easy, moderate or fast.
Whether you're new to it or a veteran cyclist, learn everything you need to know about cycling on the roads of London by taking the TFL Cycle Skills course.
Cycling rules in London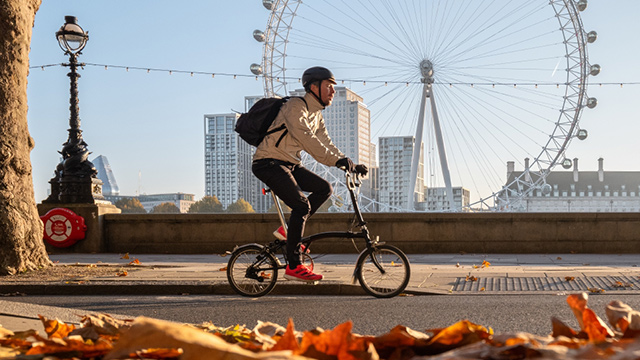 Some cycling rules in London:
Wear a helmet and appropriate clothing
Wear reflective clothing and/or accessories in the dark – bikes must have white front and red rear lights lit at night
Keep both hands on the handlebars except when signalling or changing gear
Signal to other road users when moving away from the kerb, turning or manoeuvring
Obey all traffic signs and traffic light signals
Do not cycle on pavements
Do not carry a passenger unless your bike has been built or adapted to carry on
Find all Highway Code rules for cyclists in London on the government's website.
London bike hire
Several companies hire out mountain or hybrid bikes in good condition. Deposits of £100 to £200 are generally required (credit cards are accepted), regardless of rental period.
The London Bicycle Tour Company hires bikes at reasonable rates, with lower charges for longer rentals. It also offers daily bike tours of London (weekdays only during the winter season), with or without bike hire.
For shorter journeys around the capital, you may also wish to try out a Santander Cycle.
Bicycles on London's public transport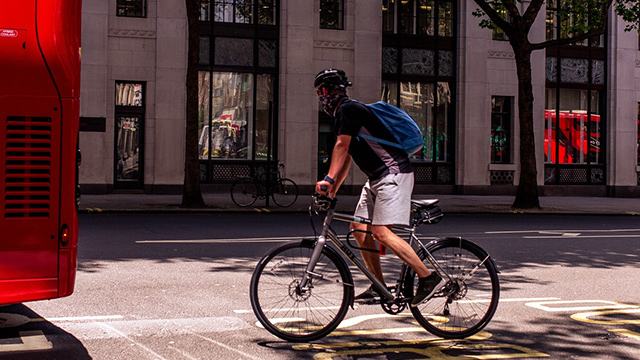 Folding bikes may be taken without restriction on all Tube lines, river services, London's local trains, the Docklands Light Railway and London's Tramlink. You can even take a folding bike on buses, at the driver's discretion.
Outside peak times, non-folding bicycles may be taken on the following Tube lines: District, Circle, Hammersmith & City and Metropolitan and on some sections of other lines. Peak times are Monday to Friday from 7.30am to 9.30am and 4pm to 7pm.
Non-folding bicycles can also be taken on some sections of the London Overground network. For more details, visit the Transport for London website.
Restrictions on taking folding and non-folding bikes on national trains vary from company to company, so check with your train provider before setting out. For contact details, visit the National Rail Enquiries website.
London pedicabs
Pedicabs are three-wheeled cycle rickshaws that seat two or three people. London's pedicabs tend to operate in central London, around Soho and the West End.
The best-known companies are Eco Chariots and Bugbugs, both of which monitor riders and are insured. However, this is not always the case with other pedicabs and you are advised to check safety features and insurance before boarding.
E-scooters
You can currently travel around the roads of Canary Wharf, Ealing, Hammersmith & Fulham, Kensington and Chelsea, and Richmond on a rented electric scooter. A trial e-scooter rental scheme is in place across these areas with Tower Hamlets serving as a "ride-through" area.
To rent an e-scooter, register with one of the operators' mobile apps and complete the online safety training before your fist ride. Use the app to locate an e-scooter in your chosen area. The operators are Dott, Lime and TIER.
Electric scooters must be ridden on roads or spaces used by bicycles, but not pavements. Expect to pay between £3.25 and £3.40 for a 15-minute ride.
For more information check the TFL website.