Uber Boat by Thames Clippers operate frequent river bus routes.
Oyster cards and Visitor Oyster cards are accepted on Uber Boat by Thames Clippers services.
You can now purchase Uber Boat by Thames Clippers tickets via the Uber app.
Fares vary according to river zones and discounts; prices start from free for children under five, up to £19.90 for an adult River Roamer ticket.
All London piers are accessible except for Cadogan Pier and London Bridge City Pier.
Browse the traveller information below for the Thames river bus services, popular with commuters and visitors to London.
Get on board a River Thames bus service for a fast, frequent mode of transport. Most boats have refreshments. You can see London's famous landmarks from the water. Unlike river tours, they generally do not offer a commentary, but you can download the visitor app in:flow for free, and transform your smartphone into a useful and interesting audioguide. This service, along with the fast and efficient links to major London locations along the Thames, makes river buses a great choice for commuters and visitors alike.
River buses are great value and serve five different routes with destinations between Putney and Royal Woolwich Arsenal. Work out where to travel with the Uber Boat by Thames Clippers river bus route map.
River bus stops
Uber Boat by Thames Clippers operate the river bus routes. Popular stops along the Thames include:
The Woolwich Ferry is a free service between Woolwich and North Woolwich. Visit the Transport for London website for more information.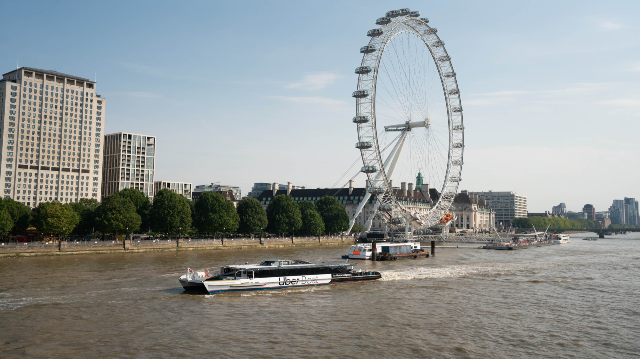 Thames river bus tickets and timetables
You can buy a ticket from a ticket office seller or machine on the pier before boarding the boat. Travelcard holders can get a one third discount on most riverboat routes.Tickets are also available online on the Uber Boat by Thames Clippers website.
Pay-as-you-go Oyster cards are accepted on Uber Boat by Thames Clippers and give you a discount on most single journeys. You can also buy tickets using the Uber app, or pay for your journey with pay-as-you-go Visitor Oyster card credit. Simply tap your card on the yellow disc on the pier before you board and again when you get off.
Contactless payment cards are also accepted: customers are charged the same pay-as-you-go fare as using an Oyster card. Please note, pay-as-you-go capping does not apply when using Oyster or Visitor Oyster card to pay for river travel.
If you plan to use the river bus service for several journeys, it could be cheaper to buy a one-day River Roamer ticket (hop-on hop-off day ticket).
For more information, see the TfL website.
Safe travel
Uber Boat by Thames Clippers operate with a number of essential changes to its services:
All journeys are now fully contactless
PPE is provided for all staff
Seats are blocked off and and floor markings are provided to ensure safe distancing
How much does the river bus cost?
Fares on Uber Boat by Thames Clippers vary according to the river zones you need to travel through and which discounts, if any, apply to you. Prices range from free for children aged five or under, up to £19.90 for an adult paying at the pier for a River Roamer ticket. Read the full list of fares for Uber Boat by Thames Clippers.
Accessibility information
All London's piers are wheelchair accessible, except for Cadogan Pier (which has steps to access) and London Bridge City Pier (which has very steep access at low tide). All river buses have step free access, and newer river craft have wheelchair spaces. You should check with individual service operators about the level of accessibility on their boats.
Staff are always on hand to offer help with boarding and disembarking from river craft. However, it is advisable for people with mobility impairments who are travelling as a group to provide advance notice to the operator concerned, to ensure a smooth journey.
For further information, check the Transport for London website.
River cruises and tours
If you're interested in river trips more suited for visitors, check these separate pages on Thames river cruises, speedboat tours and dinner cruises, which all have commentary on board.