Key Stansted Airport information
London Stansted Airport (STN) is located to the north-east of London.
Many low-cost airlines offer cheap flights between Stansted, Europe and the Mediterranean.
The Stansted Express is the quickest way into central London with trains to London Liverpool Street taking 47 minutes.
National Express and easyBus offer a coach service to central London.
Black cabs do not operate from Stansted, so make sure to use a licensed minicab instead.
There are short and long-stay car parks for those driving to the airport.
Content contains affiliate links – marked with asterisks. If you click through and make a purchase, London & Partners takes a commission which is put back into our work promoting London.
London Stansted Airport (STN) is the UK's third busiest airport and one of the fastest growing airports in Europe.
The airport is located 64km (40 miles) to the north-east of London. It is home to many of the UK's low-cost airlines, serving mostly European and Mediterranean destinations.
Arriving and departing from Stansted Airport
The Stansted Airport Arrivals hall has a range of shops, restaurants, currency exchange services and car rental reservation desks.
Stansted Airport Departures can be found on the ground floor. After checking-in, passengers must clear security control before entering the departure lounge, where there's a selection of shops, bars and restaurants.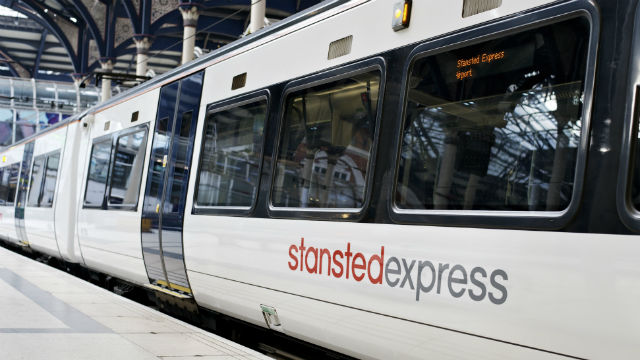 Travelling from Stansted Airport to London by train
Stansted Express is the quickest way into Central London. Trains depart from the train station, which is located directly below the airport terminal, every 15 minutes. The journey time to London Liverpool Street is 47 minutes and 36 minutes to Tottenham Hale (to connect to Stratford and the London Underground Victoria Line for the West End). Train services from the airport run at 00,15, 30 and 45 minutes past the hour, with services operating from 5.30 through to 12.30 in the evening.
If you are going to be in London for more than one day, it's worth booking a Visitor Oyster Card* in advance. The Visitor Oyster Card is delivered to your home before you arrive in London.
If you do not have a Visitor Oyster Card before you arrive, you can purchase Visitor Oyster Cards at Stansted Airport train station, before continuing your journey into Central London with the Stansted Express. You will be able to use your Visitor Oyster Card as soon as you reach Tottenham Hale or Liverpool Street station.
Visit the Transport for London (TfL) website.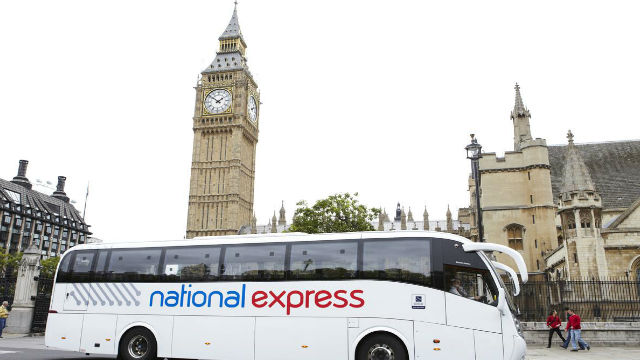 Travelling from Stansted Airport to London by coach
National Express operates a 24-hour service to Victoria Coach Station with stops at Golder's Green, Finchley Road, St John's Wood, Baker Street and Marble Arch. A second service stops at Liverpool Street via Stratford, Whitechapel, Shorditch, Bethnal Green, Mile End and Bow. There are several coaches an hour during the day. Prices start from £8 (plus £1 booking fee) for a single ticket.
easyBus offers a high-frequency, low-cost express bus service between Central London and Stansted Airport. The service operates every 15 minutes, 24 hours a day, seven days a week (except Christmas day). The journey time is one hour and 15 minutes direct and non-stop to London (Baker Street). Prices start at £2 (online price) one way. Book online and early for the best prices.
Terravision offers a low-cost coach service into Central London from Stansted. There are three services to choose from: a non-stop coach to Victoria Coach Station, a route to Liverpool Street Station and a service to Stratford. Single fares start from £6.
Travelling from Stansted Airport to London by taxi
javascript:void(0);
24x7 Stansted operates a 24-hour service to and from the airport. A taxi journey into London for one to four people costs about £99. Black cabs do not operate from Stansted although you can catch one to the airport. Visit Stansted Airport's taxi page.
The cost of all taxis is metered and displayed inside the cab. Extra charges, such as evening and weekend journeys are also shown here. Never use unauthorised drivers who offer their services at airports or stations. Ask the driver or minicab company how much your journey will cost beforehand.
Accessible transport
Stansted Express welcomes any travellers who have individual needs and those with disabilities, including wheelchair users and anyone with other mobility difficulties. Visit the Stansted Express website for more information on the service.
Currently easyBus services on the Stansted route do not cater for wheelchairs due to the size of the buses. The easyBus website has more details.
National Express can help with accessibility requirements if you contact them at least 36 hours before you are due to travel. See the National Express website for more information.
Stansted Airport hotels
There are a number of airport hotels near London Stansted, with the majority offering airport transfers and other services. To find out more, visit our page on London Stansted Airport Hotels.
Stansted Airport parking
If you're wanting to book car parking at London Stansted, there are long-stay, mid-stay and short-stay car parks available.
Explore by category