If it is your first time using a car in the UK remember to drive on the left!
The UK has an extensive public transport network but should you wish to drive to London or use a car while you're in town, there are some important things to know: not least that Britons drive on the left side of the road.
London is easy to reach using the UK's motorway network – with the M1, M2, M3, M4, M11, M20, M23, M25 and M40 motorways in or near London – as well as a multitude of major A-roads. All of London's motorways intersect the M25 orbital motorway. There are good road connections with London's airports and relevant ports.
You can also bring a car or motorcycle into the UK via Eurotunnel or ferry.
Legal requirements
It is legal to drive in Britain with a valid driving licence from outside the UK for up to 12 months from the time of arrival. However, before arriving it is essential to ensure that you are adequately insured and that your vehicle is roadworthy. For additional information, visit the Driver and Vehicle Licensing Agency website.
Under British law, all drivers and passengers must wear seatbelts. It is prohibited to drive while using a hand-held mobile phone or similar device. Car seats or appropriate restraints are compulsory for children. Motorcyclists must wear a helmet. There are also strict laws about driving while under the influence of alcohol. See the Department for Transport website for full details of the legal requirements for drivers.
If you do plan to drive in Britain, you should obtain a copy of the Highway Code, which details the rules of the road including street signs. It is available at bookshops and Tourist Information Centres, or read it online on the Directgov website.
Find out more about London's roads and driving conditions on our
Driving in London
page
Car hire in London
London's points of arrival, including airports, train stations and sea ports are all well served by car hire companies, which you can book in advance. Always use a reputable car hire company. Adapted vehicles for disabled drivers can be hired from London airports and locations in the city. For more information visit the Mobility Centre website.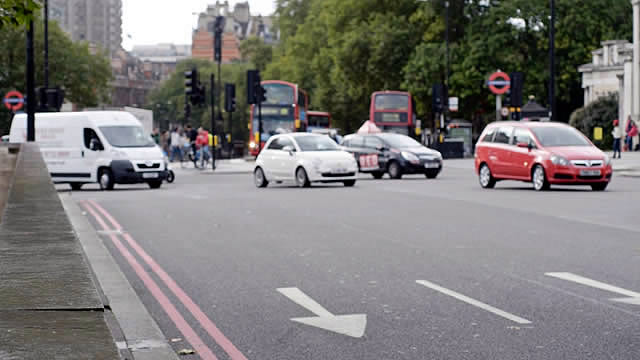 Car parks in London
Parking in London can prove quite difficult if you don't know where to go. There are car parking companies operating in London with properties throughout the city. NCP (National Car Parks) runs about 100 car parks in London, including airport car parks.
London's Congestion Charge
The Congestion Charge applies to drivers of most vehicles in Central London between 7am and 6pm, Monday to Friday, excluding public holidays and between Christmas Day and New Year's Day.
The charging zone is clearly marked by traffic signs and road markings. Motorcyles and electric cars are exempt from the charge, or may qualify for a discount. Disabled drivers are also exempt but must apply in advance.
For more information on London's Congestion Charge visit TfL's Congestion Charge page.