Best luxury serviced apartments in London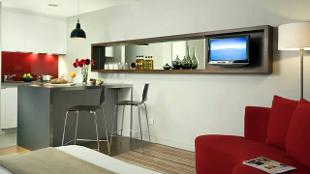 Enjoy the luxury of a hotel with the convenience of your own space at a serviced apartment in London.
Whether your visit requires a short-stay apartment in London or you plan an extended or long-term stay, find the perfect London accommodation apartment for you.
What are serviced apartments?
Serviced apartments in London usually include a kitchen for self-catering. There is also a housekeeping service, reception and often other extras available, such as a concierge and room service.
Why stay in a serviced apartment?
Holiday apartments in London offer a lot of flexibility and are great for those looking for long-term accommodation.
How do serviced apartments work?
Serviced apartments offer many of the luxuries of a high-end hotel with the flexibility and privacy of self-catering. In most cases, your apartment will be cleaned daily or on request, and other services can be provided via the reception or concierge.
Come mealtimes, use the kitchen facilities or, in many apartments, you can order room service from on-site caterers.